Life Purpose Shaman
Instructor Bio:
By communicating with Guardian Angels, Spirit Guides and her Shamanic healing abilities, Life Purpose Shaman is the secret to success in Life Purpose Discovery, Soulmate Connection and healing your soul, spirit and body. She has become an internationally known treasure for those seeking enlightenment. Having been personally mentored since childhood by teachers around the world such as Pope John Paul II, Mother Teresa, and the Dalai Lama, Shaman is the sacred vessel through which God's love can be felt and experienced. She has returned lifetime after lifetime with the same purpose, to be a teacher of teachers. To help you become who you were born to be so that together we can heal the world.
Life Purpose Shaman
Master Shaman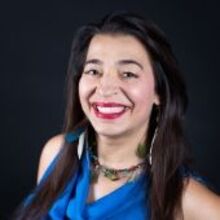 Start Living Your Purpose
Get started now
During her childhood, Shaman received mentoring around the world. She was taken in by holy people of all different backgrounds and faiths. Such as a powerful Hopi Indian Shaman named Lewis, Father Phillip in Vatican City, the Visionaries of Medjugorje, and even the queen of the Himba Tribe in Namibia. It speaks to her soul that all these gifted teachers wanted to connect with her in this lifetime on Earth. 
Among the many responsibilities of her soul, part of her purpose here is to help you live yours.
Pope John Paul II
Shaman's Childhood Mentor
As a child, Shaman lived in Vatican City and was personally mentored by Pope John Paul II. He was an incredible teacher saw her as a gift to humanity and taught her extensively about spirituality.
His Holiness the Dalai Lama
Shaman's Childhood Mentor
Like the Dalai Lama, Shaman can also remember all of her past lives. Naturally, they got along very well when they met. She worked with him and other Tibetan monks in extensive meditation.
Mother Teresa
Shaman's Childhood Mentor
Mother Teresa was one of Shaman's tougher mentors. She taught Tammy to be stern, but also devoted to God. Shaman went on the create the House of Angels Foundation 501(c)3 because of her experience with Mother Teresa. Shaman's Foundation works to create Indigo Institutes, Sanctuaries and Orphanages. Photo: Getty Images
Subscribe!
Add your email to the mailing list to get the latest updates.